Albira Solutions introduces Easy Invoices: the invoicing solution designed for your company.
16 May 2023
Albira Solutions introduces Easy Invoices: the invoicing solution designed for your company.
When it comes to managing invoicing for a business, wasting time with quoting errors and human mistakes can be a real hassle. Companies know that this time is valuable and investing it in value-added activities is crucial. When looking for a powerful technological solution, the benefits of Salesforce Billing are well-known. It is a fully established solution for simplifying and automating processes, from creating accurate and personalized invoices to managing payments and collections. This means that companies can save time and reduce errors in the invoicing process.
In addition, Salesforce Billing is integrated with the Salesforce CRM platform, which allows companies to have a complete view of the customer lifecycle, from acquisition to invoicing. Another advantage is that it provides a range of analysis and reporting tools, enabling companies to have a detailed view of their invoicing process. What more could you ask for?
Adaptation for SMBs. Small and medium-sized companies require solutions that are tailored to their needs. While Salesforce Billing is a powerful solution, it has some drawbacks. It is suitable for large companies, but for a small or medium-sized business, the sheer number of features can be overwhelming.
There is an alternative: Easy Invoices is the great invoicing solution on Salesforce for SMBs.
Aware of the limitations of Salesforce Billing, we have developed Easy Invoices: an application for generating invoices in Salesforce that is efficient, practical, and focused on providing an optimal user experience while also helping businesses become more competitive.
To obtain it, simply download it from the Salesforce AppExchange at a competitive price and quickly enjoy its benefits:
1.- Intuitive and practical interface
Albira is a Salesforce partner, so the solution allows for the creation of standard, easy-to-understand invoices on the platform with just a few clicks, from any device.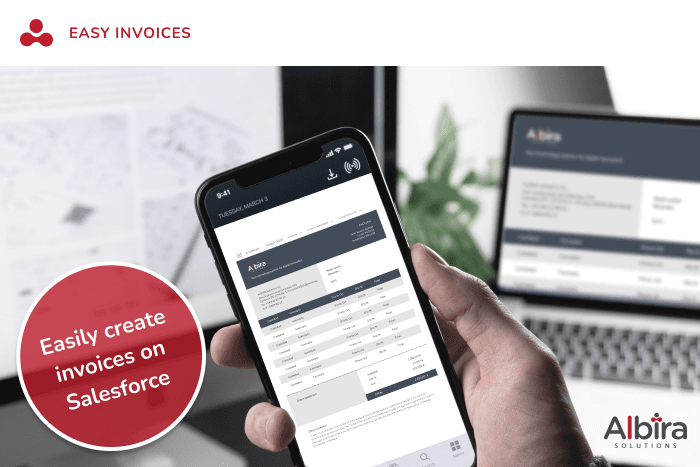 2.- It integrates with the Salesforce CRM dashboard
The Salesforce integration makes it easy for sales and finance teams to work together to offer customers a more efficient and effective invoicing experience.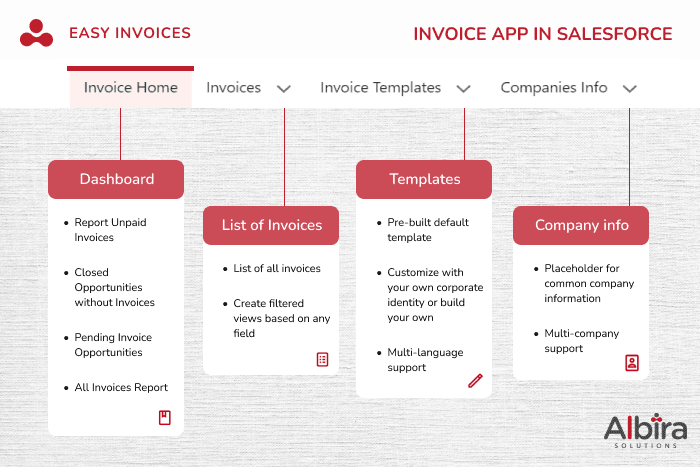 3.- Links invoices to company opportunities
With this feature, sales teams gain agility because they can easily send opportunity details to Easy Invoices such as opportunity products, which generates invoices accordingly. Additionally, finance and management teams can use opportunity information to create billing plans tailored to the customer's needs.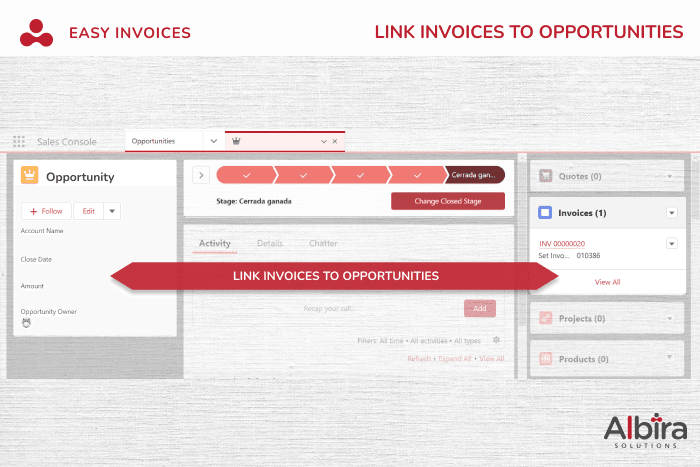 The advantage of this integration is that it allows for a better understanding of each customer's lifecycle, including their purchasing habits and billing patterns. This can help improve long-term customer retention.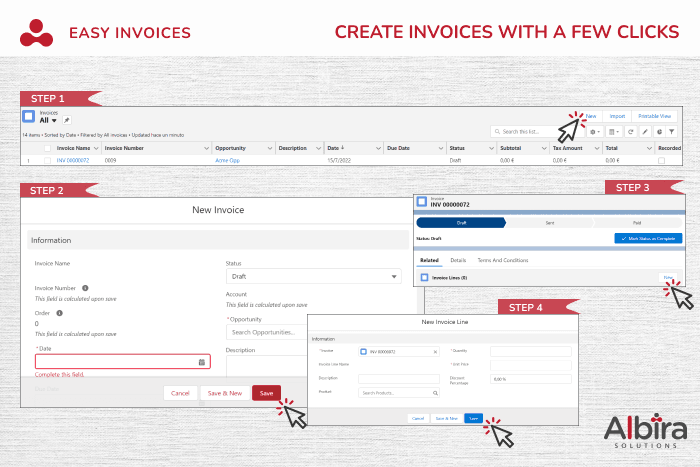 4.- Create invoices in just a few clicks
Generate reports quickly for the accounting department or your external provider.
Additionally, you can enjoy top-notch functionalities such as:
Quickly view unpaid and overdue invoices in the application dashboard, as well as other useful metrics.
Print invoices in PDF using a ready-to-use template that you can customize with your own corporate identity.
With the launch of Easy Invoices, enjoy a unique proposal to improve the invoicing management in your company:
Are you interested in scheduling a quick meeting? We would love to demo the solution and clarify any doubts.

If you purchase the Easy Invoices solution on AppExchange before June 1st, we will apply a 20% discount on the price for the first year! That's almost €100 off. Don't miss this opportunity! Use the promotional code B4GONRIP at the time of purchase.