Custom Power Apps: The importance of choosing the option that best fits your company and receiving personalized training
13 July 2023
Did you know that the market offers incredibly powerful applications to boost your business efficiency without the need for large investments? If you're considering starting a digital transformation process and your company is using the Microsoft environment, this article will interest you. There are numerous processes that you can manage in a simple way, without the need for a large learning and adaptation effort on the part of your organization. However, it is important that you seek flexible options adaptable to the specific needs of your business, both in design and implementation.
We're talking about Microsoft's Power Apps, Power Automate, and Power BI, solutions that not only help you boost your business sales, but also offer additional benefits in various areas:
Optimizing internal processes of the company
Driving your business innovation
Improving customer experience
Promoting improvements that facilitate data-driven decision making
In addition, using these digital tools and platforms promotes collaboration in the company, as they allow real-time communication.
If you need an app to boost sales in your company, we propose 3 service packs:
ALBIRA POWER APPS PLANS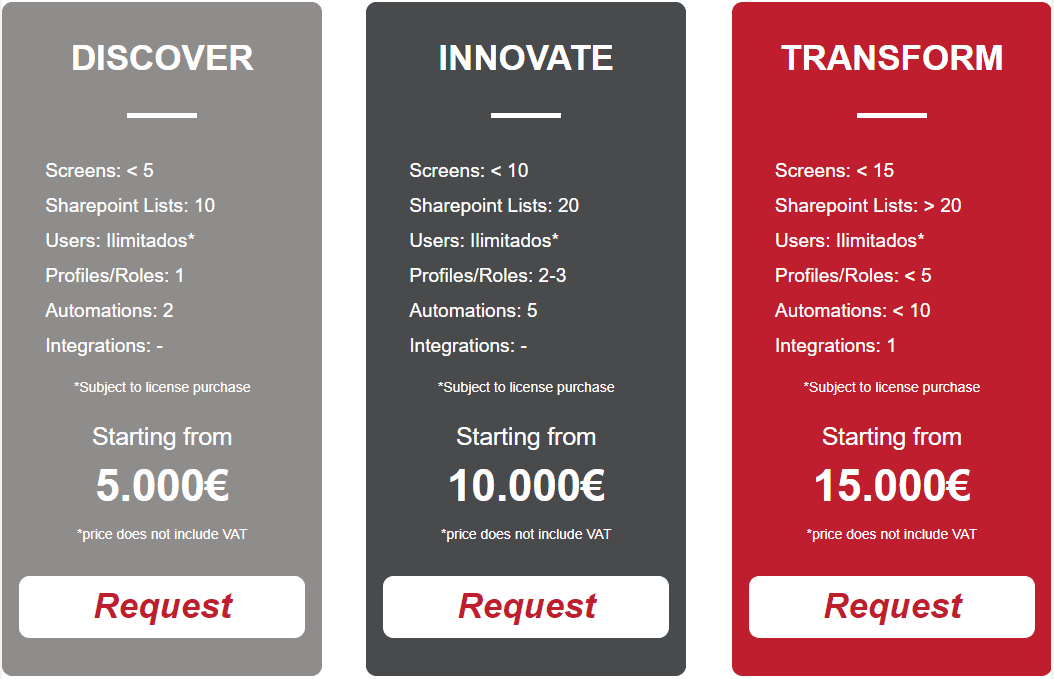 Companies that offer these digital transformation services provide different modalities. For instance, at Albira Solutions, as app developers, we have launched 3 service pack options for app development onto the market. These are adaptable to the needs of your business and incorporate an additional feature of tailored follow-up and training. Once the integration is installed, we dedicate a few hours of the project to train the collaborators who are going to use the tool, so that the change is as easy as possible.
POWER BI
Another interesting modality of applications are Power BI, ideal for transforming complex data into visually attractive and easily understandable information. They offer:
Interactive data visualization, such as graphs, maps, and tables.
Real-time analysis: Power BI can connect to various data sources, which helps to make data-based decisions in real time. Ideal for speeding up changes when the environment requires it.
Integration and compatibility: It easily integrates with other Microsoft tools and services, which facilitates collaboration and joint use of various Microsoft ecosystem tools.
Accessibility and collaboration: with cloud visualization options, reports and dashboards can be accessible from anywhere and on any device. In addition, it allows sharing and collaborating with other users in real time, which facilitates team decision-making.
At Albira Solutions, we offer various options that allow you to elevate your business to the next level. Never better said, to another screen. These are the packs you can choose from:
ALBIRA POWER BI PLANS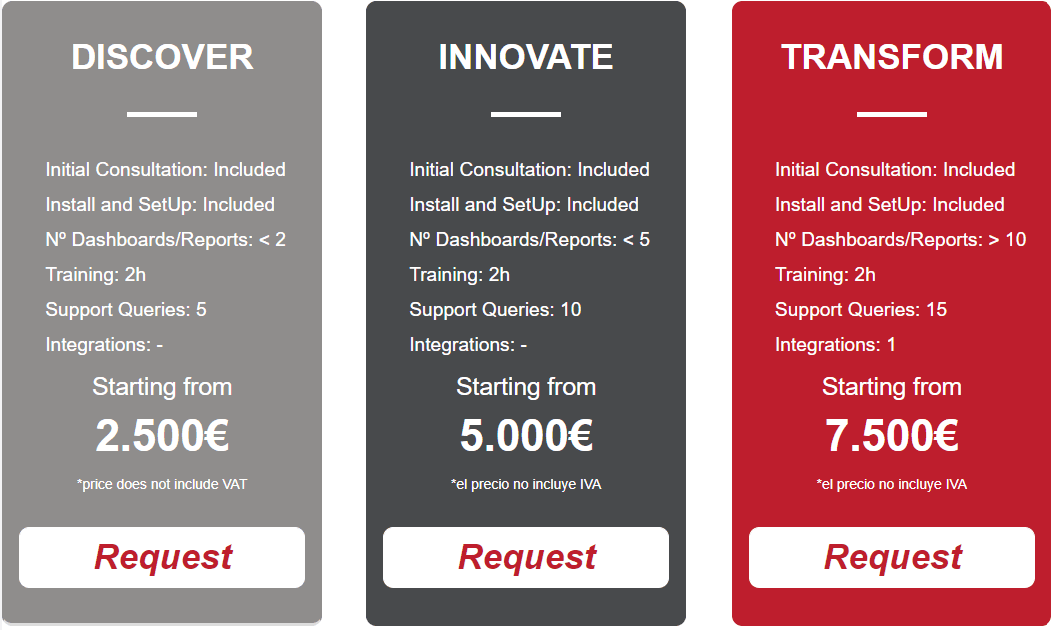 THE BENEFITS OF TRAINING IN APPLICATION INTEGRATION
What some may consider as a simple fringe, we believe contributes to completing the process and also improves the quality perception a collaborator might have about their company.
As the famous psychologist Frederick Herzberg stated in the book "The Motivation to Work" (1959), "Training is considered an important component for employee growth and development. Herzberg argues that the opportunity to receive training and professional development can positively influence employee satisfaction and motivation. By providing workers with the opportunity to acquire new skills and knowledge, training can enhance their sense of achievement, recognition, and personal growth."
Furthermore, Herzberg highlights that training can be an effective means to improve performance and work efficiency. By acquiring new competencies and knowledge, employees may feel more capable and competent in their roles, which in turn can have a positive impact on motivation and the quality of their work.
GAINING COMPETITIVENESS AND EFFICIENCY
If you are looking for a multi-platform application development company, efficient and customized, that offers complete solutions with customer service, maintenance, and training, Albira Solutions' options with Microsoft's Power Apps, Power Automate, or Power BI are ideal.
Partnering with a good digital innovation partner like Albira Solutions can represent a significant advancement for your business because you gain competitiveness and efficiency. Contact us, and we will be delighted to advise you.