Marketing Automation for Higher Education Institutions with Salesforce Pardot
14 October 2020
The challenge of personalized experiences for Higher Education Institutions
Higher Education Institutions face many challenges when it comes to providing personalized student experiences.
The depth of course offerings - from undergraduate degrees to postgraduate masters and specialization courses, including seminars and a myriad of stand alone subjects - means student profiles and recruiting cycles can vary significantly depending on the program. For instance, profiles can range from a 21 year-old student to a top executive at a large corporation. And student purchase decisions can vary significantly from just a few hours for a specialized course to a couple of years for an MBA.
Despite the diversity in course offerings and profiles, students still expect institutions to deliver a personalized experience throughout the recruiting stage based both on an accurate profile assessment and an adequate engagement during the process.
Afterwards, they expect a persistent and personalized follow up, with recommendations on career paths and ad-hoc services to advance their personal development.
A roadmap for marketing automation and personalized communications
We think the first strategic decision for Higher Education Institutions must be to adopt a core CRM for enrollment and admission in order to integrate all data collected from various sources - marketing department, sales, tutors assessments and administrative data from early admission - into a single repository of information. The goal is to remove silos of information between recruiting and admission and the academic cycle as well as enabling a 360 degree view of each student.
Once this is accomplished, the second step must be to integrate a marketing automation tool with the CRM platform in order to personalize the student journey and the campaigns flows through all channels (email, SMS, phone, chat, etc).
Finally, the third step consists in integrating the cloud contact center with the CRM platform to give contact center agents the tools and the information they need to pursue the right opportunities at the right time and have more relevant conversations with students that result in higher conversion rates.
The Salesforce solution
With Salesforce, Higher Education institutions can meet the demands of tailored student experiences and more engaging and meaningful communications:
Sales Cloud — Provides a central repository of data that can easily integrate into other systems to manage leads, opportunities and the student life-cycle.
Service Cloud — Enables the integration between the cloud contact center and Salesforce as well as omnichannel communications.
Pardot — A complete marketing automation solution integrated with Salesforce. Note: Salesforce also offers Marketing Cloud for marketing automation, but in this article we will focus on Pardot.
Pardot for marketing automation
Pardot's features and functionalities provide many benefits:
Ultra personalized communications — Ability to deliver ultra personalized communications that depend on delivering the right content at the right moment at the right person, resulting in increased campaign metrics, from open rates to enrollment ratios.
Targeted advice — Ability to provide specific advice to each student, multi language content and geographical personalization.
Better recommendations — Offer better student recommendations during their lifetime learning path to foment their professional and personal career.
Use case: Open Day
Let's take an example of how Pardot can help with an Open Day event at a Higher Education Institution.
Open Days are events where future students interested in a particular program can come to visit the school, attend demonstration classes and meet with tutors. Usually, the prospect student must register first to attend the event.
In this particular example, we want to invite potential students to the Open Day. We want to track who registers and who doesn't and send information before the start date of the event. Afterwards, we want to track who has attended and who hasn't and send follow up emails with next steps.
Let's see how to configure Pardot to achieve all of this.
Create emails and webforms
The first step is to create with Pardot the various emails to be sent as well as the web registration forms.
Those who register to the event will be added to a Pardot list, which is is simply a group of contacts that meet a predefined criteria, in this case having registered for the Open Day.
Create an engagement flow
The second step is to create an engagement flow in Pardot. An engagement flow is an automated process or journey that can be represented as a decision tree with inputs and actions.
The flow will be triggered whenever a contact is added to a configured list of contacts having expressed some interest in the program, either by downloading a brochure or requesting additional information.
This list is dynamic, meaning that contacts can be added to the list automatically by Pardot when they are either created or updated if they meet the specified criteria. Each contact traverses the flow independently.
The engagement flow logic is as follows:
Send invitation email — Send the contact an invitation email to the Open Day.
Wait for registration — Give the contact a few days to complete the registration form.
Send reminder, if required — If the contact has not filled out the form after a few days, send a reminder.
Adjust contact score — If the contact fills out the registration form, add it to the registered list and adjust its score in Pardot. A score is a metric that gauges the contact's level of interest in the program. The higher the score, the higher the interest in the program.
Send event details — The day before the event, send an email to everyone who has registered with the event details.
Track attendees — On the day of the event, track who is attending the event. This can be done using another Pardot web form filled out by the school staff or a bar code scanner which will automatically submit to Pardot the form data.
Send thank you note — Finally, after the event, send a Thank you email to all attendees with next steps and perhaps create cases attached to these contacts to schedule a follow up call by the sales team.
Below is the picture of the automated engagement flow we just described as it would be created in Pardot.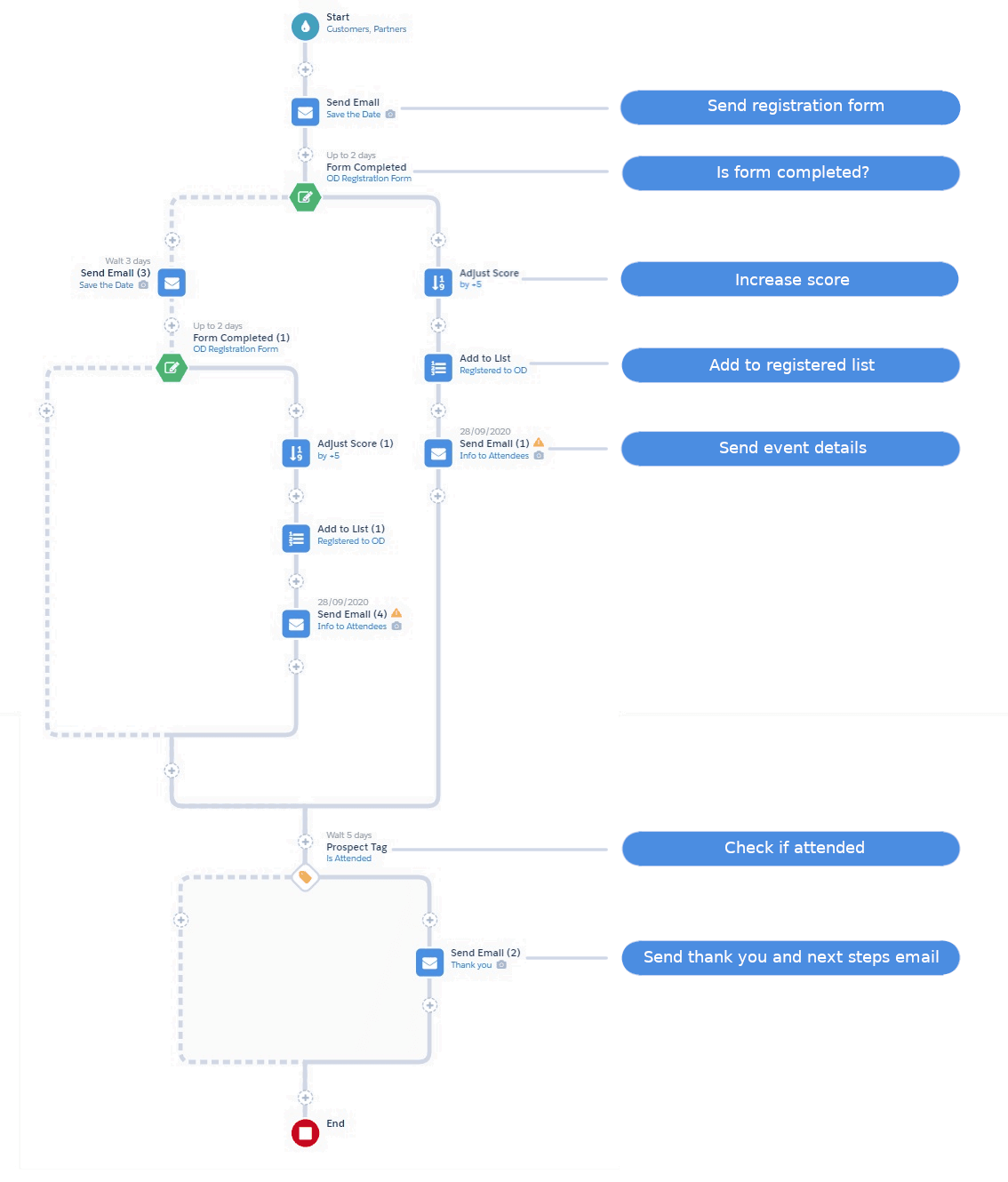 Other areas worth exploring
Other interesting initiatives for Higher Education Institutions to improve student experiences and further integrate data within Salesforce include:
Move from Salesforce to HEDA structure.
Salesforce Advisor Link.
AI and machine learning.
If you are looking to deploy Salesforce Sales Cloud, Service Cloud or Pardot for a Higher Education institution or work in another industry but face similar challenges and would like to get in touch with us, let us know by leaving a comment to this post with the tag #albira.